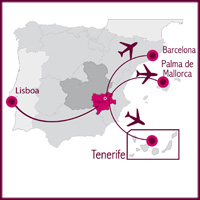 How to arrive
reach Albacete by different means: Road, Train, Coach, Aeroplane, you decide which.
Phones:
RENFE 902 24 02 02
Estación de autobuses 967 21 60 53
Autobuses urbanos 967 52 13 51
Radio taxi 967 52 20 02
Bus

Next to the Railway Station, the Bus Station of Albacete has shops, a coffee shop, bathrooms and showers, a waiting room and ticket counters of companies with destinations in Levante, Madrid, many towns of Albacete, cities in Castile La Mancha, Basque Country, Catalonia and Andalucía.
For more information:
www.emisalba.com
Phone: 967 21 60 53
Trains

Albacete has a railway station that communicates with the main Mediterranean coastal cities, likewise with Andalucía and the North of the peninsula via Madrid. The start-up of the new AVE station will extend the options of reaching Albacete in the best conditions and shortest time.
Currently trains from A Coruña, Alicante, Almeria, Badajoz, Barcelona, Cadiz, Ciudad Real, Cordoba, Gijon Granada, Leon, Madrid, Malaga, Murcia, Orense, Palencia, Pontevedra, San Sebastian, Santander, Sevilla and Valencia have stops in Albacete.
For more information, contact:
www.renfe.es
Phone: 902 24 02 02
Roads
Because of the strategic location between Madrid and the Levante coast of Spain, Albacete is a communications hub, with motorways to Madrid, Valencia-Alicante and Murcia, and in a few years to Jaén, Teruel via Cuenca, Toledo and Ciudad Real.
To reach Albacete by road, you can take the following routes:
– From Madrid, the A-31 motorway, that connects with N-320.
– From Andalucía, the N-322
– From Ciudad Real/Andalucía, the N-340
– From Alicante, the A-33
– From Murcia, the A-30
{mosmap weather='1'|width='600'|height='400'|lat='38.99619'|lon='-1.856552'|zoom='12'|text='IV Feria de Cuchillería <br />Artesanal de Exhibición y Venta<br />" Ciudad de Albacete" & Knife Show<br />Plaza de la Catedral, s/n<br />02001 Albacete'|tooltip='IV Feria de Cuchillería Artesanal de Exhibición y Venta'|marker='1'|align='center'}

Airport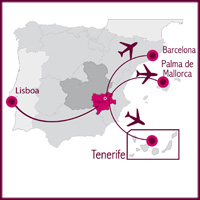 The Los Llanos Airport is situated south of Albacete, about 4 km. from the centre via Ctra. Peñas de San Pedro, Km. 3.9 – 02049, using access road CM-3203.
It operates charter flights to Palma de Mallorca, Tenerife and Lisbon during the summer period and daily flights to Barcelona; these are especially interesting for tourism because via Barcelona, it is possible to find connections to Europe and the rest of the world.
The Terminal has four check-in counters, free car park, taxi rank and bar-coffee shop services.
A detailed description of the airport, access points, real-time flight information, localisation and telephone numbers of different airlines, etc., can be consulted at the official website of the airport.
www.aena.es